The problem.
The Transportation Security Administration (TSA) wanted to become better aligned with the public's need for information to make travel safer and airport checkpoints less stressful. They believed (and we agreed) that their website was a good place to start meeting traveler's needs.
Solution.
Research and heuristics led us to understand the gaps between what people (the public, employees, press) needed from TSA.gov and what they were providing users. Then, we defined a framework of what they need to online:
Show transparency, authenticity, relevant and timely information
Use simple, clear, concise information to help users get through security in the most efficient and convenient way
Set the traveling public's expectations about the dynamic nature of "what we do"
Portray employees as an intelligent, skilled workforce-best at what they do
Explain TSA's role in protecting the nation's transportation systems as a part of Homeland Security
Putting User Needs First
Based on the findings we redesigned TSA.gov from the ground up focusing the immediate needs of travelers and setting proper expectations. Some prominent features included:
Communicating travel requirements prominently and in the correct tone.

The ability to quickly understand what items are prohibited.

The ability to find out wait times at various checkpoints nationwide.

The ability to provide feedback.
We also focused on portraying TSA employees in a different light and sharing ways that the TSA was trying to make traveling less stressful will still putting a premium on passenger safety.
My role.
Teamed up with Senior Creative Project Manager, Chris Carlson, we worked seamlessly on every aspect of the project, including these research activities:
A workshop with various client stakeholders
A survey of 200 subjects from the traveling public
Qualitative interviews with various user types
10 TSA staff interviews including the Agency head, Kip Hawley
An audit of TSA web metrics
A review of previous concept work done by IDEO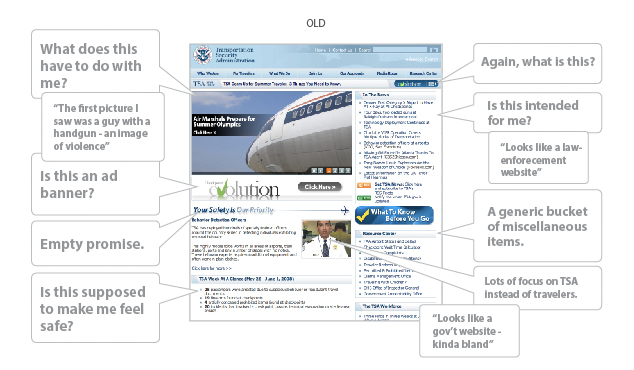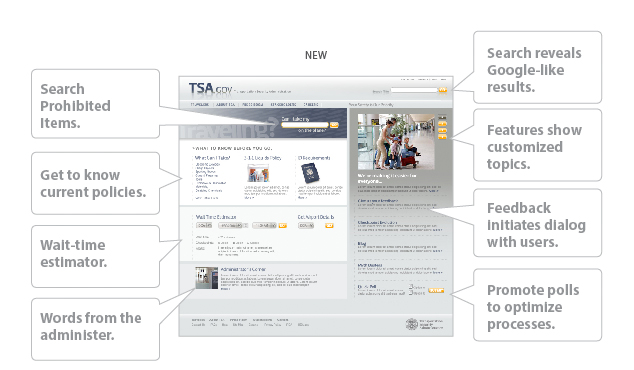 as well as design and deliverables:
A Research Findings Report
A Heuristic Website Assessment
A Web Strategy
Wireframes and Functional Specifications
Hi-fidelity comps
A Style Guide
*NOTE: this project took up most of 2008, an election year. And as the year came to a close, the lame duck administration had one foot out the door, and sadly, with them went all this work. With a few small exceptions, the TSA.gov of 2008 has remained primarily unchanged to this day.
Other team members were Chris Carlson & Autumn Wilkins